Activities
Extension Activities
 The School has launched a major extension programme known as 'Rainwater for Humanity' in collaboration with Brown University (USA) and local panchayath, self help groups. Through this extension programme, the School envisages to adopt small villages with an objective of providing basic amenities like drinking water and sanitation. As a part of this programme the School has installed a community rainwater harvesting structure (1.2 lakh liter & 18 (15,000-18,000 liters) at Achinakom Panchayath in Kuttanadu region.  Construction of additional rain water harvesting tanks are in progress as the part of OSI.
The School is giving training programme on environmental quality assessment and other advanced areas of research for school and college teachers. It also extends help to the District Disaster Management Authority in their disaster management activities. 
Beach Cleaning 2019
Mahatma Gandhi University, Kottayam, Kerala
International Coastal Clean-up Day – September 21,2019
Venue: Alleppey Beach, Alappuzha, Kerala
 Coordinator:
Dr. E.V. Ramasamy, Professor & Director
International Coastal Clean-up Day was observed successfully by School of Environmental Sciences (SES), Mahatma Gandhi University (MGU), Kottayam, Kerala on September 21,2019 in association with National Centre for Coastal Research (NCCR), MoES, Govt of India, along with Sanatana Dharma (SD) College, Alappuzha, Kerala and Suchitwa Mission (Local Self Government Department –LSGD, Govt. Of Kerala), Alappuzha Unit at Alleppey Beach, Alappuzha, Kerala. Dr. E. V. Ramasamy , Director of the school (Coordinator of ICC-2019), faculty members, Doctoral and Post- Doctoral fellows, Masters students and non-teaching staff of SES, MG University assembled at Alleppey Beach, Alappuzhaat 7:00 AM on September 21, 2019.Representative of Suchitwa Mission Alappuzha Unit, Kerela , Port office, and Students of SD college, Alappuzha joined the team at the venue. Dr.Adeela Abdulla IAS, District Collector, Alappuzha, was the chief guest of the program. Prof. E.V. Ramasamy Dean and Director, SES M.G.University (Coordinator of ICC-2019) welcomed the gathering and highlighted the importanceof having a cleaner coast and ICC-2019 , also explained briefly the awareness activities included under ICC -2019.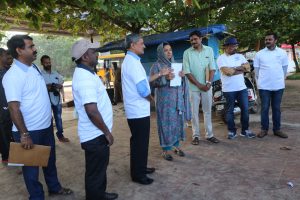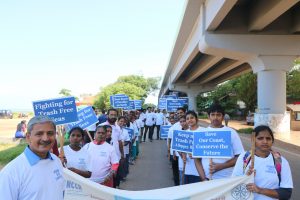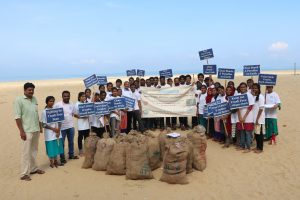 Rainwater for Humanity