Training
EMAT 2023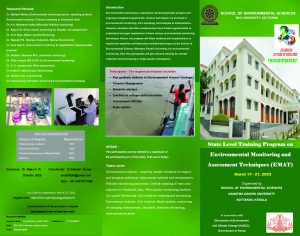 SILVER JUBILEE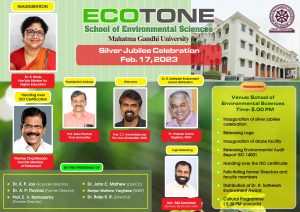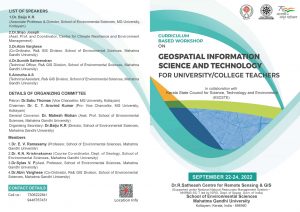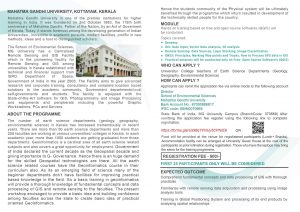 SEPTEMBER 22-24 2022
Venue: Dr. R. Satheesh Centre for Remote Sensing and GIS
School of Environmental Sciences
MG University, Kottayam
The school of Environmental Sciences, MG University has a Centralised Remote Sensing and GIS Facility which is the pioneering facility for Remote Sensing and GIS among universities in Kerala established with technical and financial support from ISRO, Department of Space, Government of India in the year 2003. The Facility aims to give advanced research and corporate training, consultancy and complete location based solutions to the academic community, Government departments/local self-governments and students. The facility is equipped with the State-of-the-Art software for GIS, Photogrammetry and Image Processing and equipment and peripherals including the powerful Graphic Workstations, PCs and Servers. 
So the Institute decided to provide a basic training in geoinformatics, which will provide knowledge of fundamental concepts and data processing. 
WHO CAN APPLY..?
University/College teachers of earth science departments(Geology,Geography,Environmental Science)
HOW CAN APPLY..?
REGISTRATION FEE-500/-
Applicants can remit the application fee via online mode  
FIRST 25 APPLICANTS ONLY WILL BE CONSIDERED
For further details visit ……………..
Contact +91 6282023170 /+91 7306222841
Hands-on Training on Trace Metal Analysis -January 11-13, 2022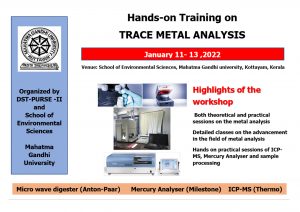 Training (online) Program on Environmental Monitoring for the students of DB Pamba College, Parumala during March 8-10, 2021
Training programmes