Facilities
 Library
The School's library is well equipped with a good collection of books, journals, reprints, theses and dissertations. Digital library of the School and the free access of E-journals under the UGC-INFLIBNET programmeare also available through institutional network.
Collection: Major collection comprises of around 4500 books, current subscription to 50 periodicals, PhD theses and Dissertations submitted by the students of the School. The Library has access to 4000+ electronic journals and databases through the UGC Infonet Digital Library Consortium. It also has access to SciFinder, Web of Science, EBSCO databases.
Working hours: 9am to 5pm on all working days.
Membership: Students, Research Scholars and Teachers of the School.
Membership fee: Free
Integrated Library Management Software: The Library uses the library management software SOUL developed by the INFLIBNET Centre for all its housekeeping operations.The Digital Library of the School can be accessed in the University Intranet. The development of an Institutional Repository of the School is under preparation and the same is also available in the University Intranet.
Laboratories
The school has a well equipped laboratory and research facilities for water, air, soil and sound pollution analysis, toxicological and waste management studies, and biodiversity, wetland and mountain studies and climate change studies.. Apart from the infrastructure cited, the School has a full-fledged computer lab with necessary software packages for ecological and environmental modeling studies
Environmental chemistry lab
Environmental biotechnology lab
Environmental microbiology lab & Toxicology lab
Remote sensing and GIS lab
Sophisticated Instrumentation rooms
MS lab (LC, GC, ICP)
Mercury Analytical Facility
Bioenergy Lab
Algal Lab
Major Instruments
Accelerated Solvent Extraction – Thermo Fisher Scientific Dionex ASE 150
BIODIESEL PLANT-MALNAD INDUSTRIES LIMITED, SHIVAMOGA, KARNATAKA
CO2 Incubator Make : Brunswick Scientific Model : CO28IR
Cold Vapor Atomic Fluorescence Spectroscopy – Brooks Rand, model III.
Direct Mercury Analyser – DMA 80. Milestone
Flame Photometer – ELICO CL 378
Fluorescence Spectrofluorometer– Perkin Elmer LS-55 Spectrofluorometer
Freeze Dryer – LABOGENE ApS- Scanvac Coolsafe Touch-110-4
ATR – Fourier Transform Infrared Spectrophotometer – Shimadzu
Fume Hood – NuAir
Gas Chromatography – Thermo Scientific Trace 1110 & Perkin elmer Clarus 500
Gas Chromatography–Mass Spectrometry (GCMS) – Thermo Fisher Scientific – Model Trace 1300
Global Positioning system (GPS) – GARMIN etrex 30, Trimble Spectra precision Mobile mapper 50
High -Performance Liquid Chromatography- Shimadzu Prominence UFLC, LC 20 AD.
High Volume Air Sampler – Envirotech APM-550 MINI
Inductively Coupled Plasma Mass Spectroscopy (ICP-MS) – Thermo Fisher Scientific
Instrument : Laminar Air Flow ChamberMake : MARK ultraclean concepts
Instrument : Liquid chromatography–mass spectrometry (LC-MS) systemMake : ShimadzuModel : LCMS 2020
Instrument : Liquid Chromatography Quadrupole Time-of-Flight Make : Waters Model :  UPLC XEVOG2 QTOF
Solvent Extraction System (Lipid Analysis) – Pelican Socsplus – SCS 03ASDLS (TS)
Mechanical Shaker – Scientific Equip. Corp.
Microbial Double Chamber Fuel cell
Instrument :Microplate Reader Make : Thermoscientific
Semi Automatic  Nitrogen Analyser – KEL PLUS- ELITE EX (VA)
PCR Gel docMake : BIORADModel : Universal hood II
Petrological microscopeMake : Olympus CS31
Plant Growth ChamberMake : LABLINE InstrumentsModel :  SP5C/AL
Portable weather station, PRO 2
Portable weather stationMake : Davis Vantage VUEModel: 6351
Confocal Raman Microscope with AFM – WITec Alpha 300 RA
Spectroradiometer – ASD inc. FSHH 325 – 1075 nm
Thermo Gravimetric Analyser – TA Instruments, SDT Q 600.
Thermal CyclerMake : Applied BiosystemsModel :  9902
Ultra pure water syatemMake : Cascada TM – Lab waterModel : 18.2M Ωcm-1
UV irradiatorMake : SAIC Chennai
UV Visible SpectrophotometerMake : Perkin ElmerModel : LAMBDA 650
Dr.R.SATHEESH CENTRE FOR REMOTE SENSING AND GIS
Supprorted under the NNRMS-SC-T programme of Govt.Of India led by ISRO, Dept.of Space
About Us
The Centralised Remote Sensing and GIS Facility in SES is the pioneering facility for RS and GIS in a University in Kerala established with technical and financial support from ISRO, Department of Space, Government of India in 2003. The Facility aims to give advanced research and corporate training, consultancy and complete location based solutions to the academic community, Government departments/local self-governments and students. The facility is equipped with the State-of-the-Art software for GIS, Photogrammetry and Image Processing and equipments and peripherals including the powerful Graphic Workstations, PCs and Servers.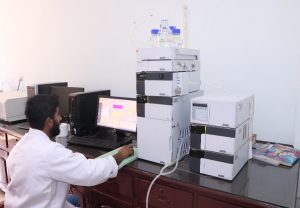 High -Performance Liquid Chromatography- Shimadzu Prominence UFLC, LC 20 AD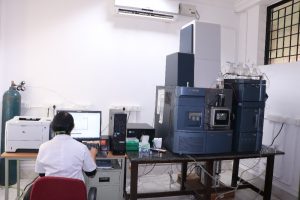 Liquid Chromatography Quadrupole Time-of-Flight, UPLC XEVOG2 QTOF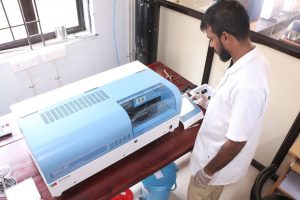 Direct Mercury Analyser – DMA 80. Milestone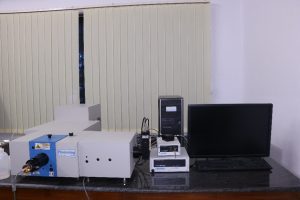 Fluorescence  Spectrofluorometer– Perkin Elmer LS-55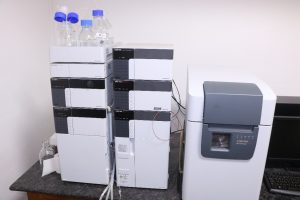 Liquid chromatography–mass spectrometry (LC-MS) system, Shimadzu,2020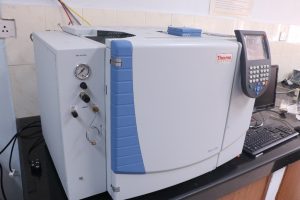 Gas Chromatography – Thermo Scientific Trace 1110